Hidden Nature Challenge
Hidden Nature is all about growing confidence in learning outside, and developing observation and recording skills.
Take your class outside and discover hidden nature on your site, in this twenty-minutes-or-less activity!
Upload your findings to our online map, where you'll be able to see hidden nature being revealed in places of education across the country. 
This activity will need to be completed on a mobile device to contribute photos to the map. Register and log in to start the activity, or follow the steps below!
Preparation
What you need
A smartphone or tablet – alternatively, you can take photographs and then upload them on a computer here after exploring your site 
Optional: Hidden Nature Challenge worksheet to remind learners of prompts and make notes as they explore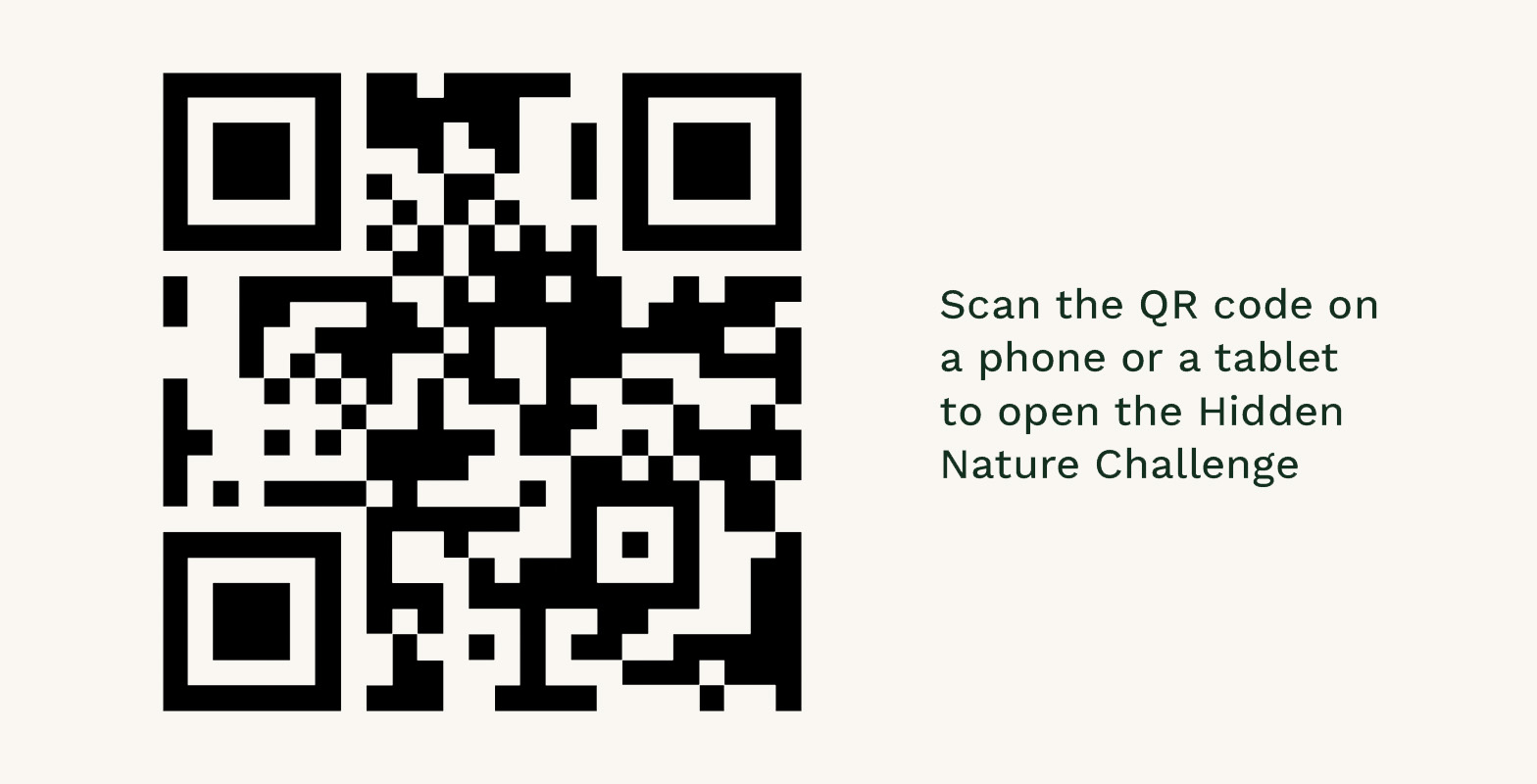 Scan the QR Code on a phone or a tablet to open the Hidden Nature Challenge. You will be given the choice to open the activity in the browser or to use the Survey123 field app.  
If you know that you might be completing the challenge in a place without an internet connection (either Wi-Fi or mobile) you should use the Survey123 field app. Follow the prompts to install the Survey123 app and open the form (you do not need to sign in anywhere to take part).  
The Hidden Nature Challenge uses your location from your device, so make sure that you enable this or zoom in and add your point to the map manually. 
Location
Outdoors
Useful guidance
Step by step
Get outside and find one (or more) of the following:
The smallest sign of nature  
A repeated pattern
A nature free zone
A plant in an unexpected place
Something new to you
Take a photograph to record the finding, and reflect on what it means to you using the prompt questions.
Add it to our online map and see how your finding compares to others! 
Reflection
Come back together as a group to explore the Hidden Nature map. Learners can be guided to think about the following questions:
What conclusions can you draw from the information on your map?
Did you find more or fewer things than you expected?
What types of things did you find most of?  
If you found any nature free zones, is there anything you would want to change about this area?
Explore the map for the rest of England, what patterns do you notice?  
What is the most interesting thing that someone else found?
Have other schools found similar or different things to you? Why do you think that is?
Are the things that people found different in different parts of England?
What impact do you think all the schools, colleges and nurseries in England can make for nature? 
Thumbnail image: © RHS, Credit: RHS / Mark Waugh